Turn swiss army knife Podio into a high precision intelligent tool for your business

We are a geek squad, experts in providing smart business process automation solutions. Authorized Citrix Podio partners, we deliver Enterprise level Podio Solutions & Services, Podio Consulting & Workflow Architecture, as well as any type of Custom Development and Automations for Podio.
We work with Podio since the very beginning and we built some amazing add-ons for Podio, like smrtPhone, REIvolution, Overview and Swiftmail.
Our mission is to provide Podio related Tools and Automations, at the highest level of quality, security and user experience possible, so that our customers can reap the full benefits of an effective and complete Podio Work Environment.
We have a dedicated and specialized team of Podio Developers & Consultants, who can provide and assist you around the clock with any kind of support, architecture and custom Podio features.
When I saw what the SwiftPod.io team could do with Podio it blew my mind, they figured out how to turn Podio into a LearJet, specifically for a busy real estate investor like me. They set up a fine tuned machine for us, with some customisations that are unique to my business and added far more automation than we've ever had before.
We mean Podio Business
Podio is a great and dynamic tool, that can be adapted to various types of businesses, but, to get even more juice out of it, it has to be integrated with other complementary services, in order to achieve a comprehensive and truly efficient solution, that will forever change the way you do and the way you manage your business
We are very serious when it comes to security, and, because of that, everything that goes through our servers, all your Emails, Attachments, Flows, Reports and Company Data are secured using high level SSL encryption and are hosted on state-of-the-art Amazon AWS servers
Our solutions are built on the award-winning Symfony platform, which is the best of its breed when it comes to performance and security. All our cloud based infrastructure is also built around top services and tools like Amazon and Rackspace
We have a proven track record of providing Podio services and solutions to various companies all around the world since 2015.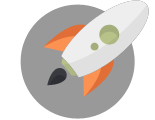 We're Here To Help Your Business Blast Off!
Through Creative Ideas, Innovation & Sheer Determination